Sing in a Choir.
Emmanuel has choirs for small children, older children, and adults. Contact the office at (314) 961-2393.

Teach Sunday School.
Teach Faith Quest church school to children in the parish on Sundays at 10:15 a.m. on a rotating basis. Contact Diana Beckman at dbeckman@wustl.edu or 961-2393.

Prepare the Altar.
The Altar Guild prepares the altar for Sunday services and weekday services. Generally works on Saturday and Sunday mornings. Please contact Suzie Florent at readhead60@aol.com or Linda Schuchmann at laschuchmann@sbcgobal.net.

Lead the Liturgy.
The worship committee ministers to those who serve at worship services by providing leadership and training for lay liturgical participants. For more information, please contact Kathleen Martin at kathleen.martin@oracle.com or (314) 849-3968.

Liturgical Ministries
Participate in the services as an acolyte, chalice bearer, reader, usher or other ministry. Click here for more information about each ministry.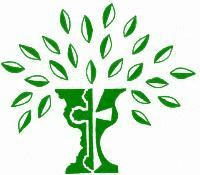 Go Green!
We all know the famous words of Kermit the Frog, "it's not easy being green." Oh, it's easier than he thinks! Come join the Environmental Stewardship Committee, and together we will explore how we can be better environmental stewards in our home, church and community. Please contact Lynne Shields at lshields@fontbonne.edu or Megan Wren at wrenme@yahoo.com if you are interested in joining or for more info.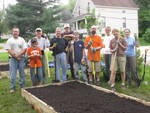 Feed the Hungry

Volunteer to help out in Emmanuel's Emergency Food Center.
Volunteer to help out at The Outreach Community Garden.
Volunteer to help out with City Streets Project.

For the past 30 years, Emmanuel's Food Center has helped feed over 60 families a month through staples and other non-perishable items donated by members of the parish and community. Now our Missions and Environmental Stewardship Committees have teamed up to create The Outreach Community Garden of Emmanuel (OCGE) which will provide fresh produce to supplement and enrich the diet of Food Center clients.

This community effort will reach to our eldest and youngest participants to make sure everyone of our neighbors can receive the proper nutrition our bodies need!

Many thanks to Kuhn Construction and Webster-Rock Hill Ministries for what we were able to create: Three new raised vegetable beds that will hold a bounty of food!

Please look for our smiling faces and updates on our blog site at http://ocgofemmanuel.blogspot.com/

Noonday Operation Brown Bag: Members of the parish meet the 2nd Thursday of every month to assemble brown bag lunches to feed the homeless. These lunches are distributed through Gateway Homeless Services. Any and all are welcome to participate. Contact Nancy Moore at ngmoore@charter.net or 968-3799.

Men of Emmanuel Operation Brown Bag: Men of the parish meet the 3rd Thursday of every month at 5:30 p.m. in Emmanuel's kitchen. Contact Jim Groetsch at jgroetsch@earthlink.net or 961-6390.


Loading for Adult Mission
Go on a Mission Trip.
You can see a the beautiful pictures and reflections of week of hard work and inspiration at Rosebud Reservation in South Dakota at http:emmanuelamt.blogspot.com. Read more about on their blog site, which is updated regularly. Contact Donna Erickson, donna_erickson@ssmhc.com or 961-3896.

Youth Mission Trip


Wash a Car.
Emmanuel Youth raise money in an annual car wash.
Youth Group Car Wash
Organize Events for Families.
Family Ministries organizes occasional fellowship and educational events for families, as well as children's liturgies. Contact Tricia Copeland at tlcope@swbell.net or 968-8178.

Knit a Prayer Shawl.
The Prayer Shawl Knitting Group meets every other Thursday evening at 7:00 p.m. This group knits prayer shawls that are blessed and given to the hospitalized or sick. The shawls symbolize Emmanuel wrapping around individuals in their time of need. Contact Peg Cooper at coopermh@slu.edu or 821-1012.

Deliver an Easter Lily or Christmas Poinsettia.
Caring Ministries generally meets monthly to care for those in the parish who are shut-ins or in need of assistance such as transportation. Caring Ministries also conducts blood pressure screenings and a blood drive.

Give someone a lift.
The Caring Committee also sponsors a birthday/anniversary greeting card ministry, transportation for those needing a ride, a Visitor program for home bound, and emergency/disaster preparedness.