parish family life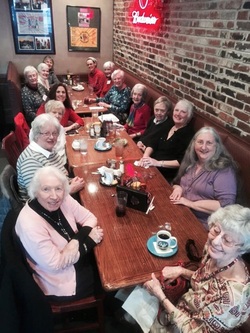 Get connected. Grow your faith through Fellowship.
View our full
calendar
.
Fellowship events give us a chance to get know one another better, to greet and welcome new members to our parish family, to bond with each other in personal ways and to just have fun together.
Helping with one of our events is one way we can be in service to one another. It is an important ministry that is meaningful and rewarding. Please seriously consider pitching in to help with an event.
Maundy Thursday Dinner
(Thursday in Holy Week)
This meal is an elegant, sit down dinner (served family-style) with flowers on the table and candles. Reservations are required. Dinner is followed by a Eucharist (w/Foot Washing) and Good Friday preparation of the Altar. (No wine is served at this meal.)
Chairing Involves: Publicity, ticket selling, shopping, preparing, cooking, set up, clean up
Christmas Play Reception
(2nd or 3rd Sunday of December)
On this Sunday, the service schedule changes to 8:00 and 10:00 a.m., and the Christmas Play is conducted in the context of the 10:00 a.m. Eucharist. A casual reception follows in the dining room with heavy appetizers, such as meatballs and cheese & crackers donated mostly by the parish. Food items are requested through the newsletter. Check out the video of the
Christmas play
.
Chairing Involves: Publicity, set up, clean up
Ash Wednesday Soup Supper
This is a simple supper of soup and bread followed by an evening service with the imposition of ashes. Everyone is asked to sign up and to bring either bread or fruit. (No wine is served at this meal.)
Chairing Involves: Publicity, shopping, preparing, set up and clean up
Summer Breakfasts
(early June through mid-August)
This event does not require great cooking skills. However, it does require coordination and sometimes coercion to line up known and unknown, formal and informal church groups to cook and serve breakfast each Sunday during the summer.
Chairing Involves: publicity, securing approximately 12 groups to serve summer breakfasts and proper communications to all groups.
---
Annual Meeting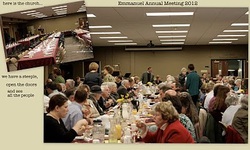 Annual Meeting (4th Sunday in January)
Usually the last Sunday in January. After the 9:00 a.m. service, all convene in the dining room for the Annual Parish Meeting. Tables are set with tablecloths and laid out with a light breakfast, coffee, juices and flowers. This is a Dutch treat breakfast. (NOTE: This has for a long time been Lee and Rogene Nelsen's ministry to the parish. Each year they are asked if they would like to continue. PFL assists with finding them helpers as needed.)
Chairing Involves: Publicity, shopping, preparing, set up, clean up.
---
advent, miss carol's brunch and hanging of the greens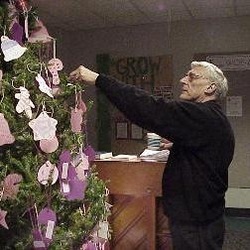 Giving Tree/Advent Soup Supper (date changes each year, check calendar)
This soup and bread supper will be held the first Sunday of Advent. Following supper, paper ornaments are decorated and hung on the Giving Tree. On each ornament is a suggested gift item, such as gloves, hats, books, and small toys. For the next several weeks, ornaments are removed from the tree and replaced with gifts. Just prior to Christmas, the gifts are taken to their respective charitable organizations and given to those in need. (The Jr. High Youth Group helps with set-up/clean-up, serving, compiling the list of gift items and preparing the ornaments to be decorated. The Missions Committee coordinates the purchase of the tree and getting the gift items to the designated organizations.)
Chairing Involves: Publicity, shopping for food, preparing/cooking soup, working w/Jr. High on set-up/clean-up.
---
showtime!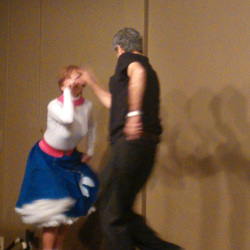 Mardi Gras (every other year, Saturday night before Ash Wednesday)
This musical and comedy extravaganza is a last chance to kick loose and have fun before Lent. Mardi Gras requires quite a commitment of time and energy, but with the talent pool of this parish, there is never a shortage of creative help.

This Saturday night event is held in the church dining room and includes dinner, refreshments, and a great show. Costumes and decorations add to the festivities. Tickets are sold and limited to 175. This event is held every other year.
Chairing Involves: Publicity, tickets, scheduling rehearsals, working with skit, food and decoration sub-committees
---
picnics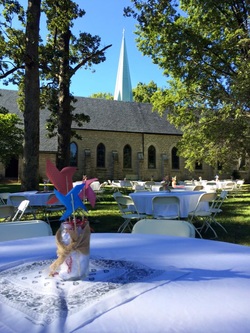 Pentecost Picnic (May 15, 2016)
This all parish picnic lunch is held on the Jones Hall lawn following the 10:00 a.m. service on Pentecost Sunday. Brats, hot-dogs (some years has been KFC) and standard picnic fare are served. Everyone is asked to sign up. Tickets are sold both in advance and the day of the picnic.
Chairing Involves: Publicity, selling tickets, ordering food, shopping, preparing, BBQing, set up, clean up.
---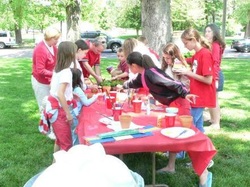 Homecoming (weekend after Labor Day)
This annual picnic on the Jones Hall lawn kicks off the church year and includes games, music and a roasted pig. Tickets are sold for several weeks ahead of time and also that day. Everyone is asked to bring a side dish or salad. The Men of Emmanuel begin roasting the pig the night before. Homecoming activities begin after the 10:00 a.m. Sunday service with lunch served by 12 noon.
Chairing Involves: Publicity, selling tickets, shopping, communication with MOE, organizing (possibly including a permit from the City to close Bompart between Big Bend and Lockwood), set up, clean up.
---