Emmanuel Preschool

Since 1949, Emmanuel Preschool has been proudly providing three, four, and five year old children in our community a caring and creative early childhood education. We operate a half-day program (9:00-11:45 a.m.) as well as early care (8:00-9:00 a.m.) and extended day (11:45-2:30 p.m.) programs throughout the school year. We also offer summer camp for enrolled students.
Our experienced, caring teachers foster a creative environment where children thrive and are eager to learn each day. Many teachers have been with the school from 5 to 16 years, so the relationships with families and children are particularly strong.
For more information, please contact
Rachael
Ludwig
, Director, at (314) 961-2393 x123 or
rachael@emmanuelpreschool.org
.
_Parents' Day Out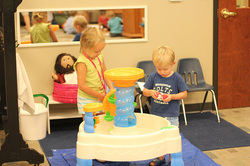 For our complete brochure, click here.
This ministry to young families provides care for children ages 2 and 3. It is designed to offer a safe and loving environment for playing and learning. It entails some consistent activities, but it does not have a structured settling like a regular classroom.
PDO is held every Monday, Wednesday and Thursday in the Nursery Suite just to the left of the Main Entrance near Big Bend Blvd. The hours are:
Monday and Thursday 9:00 a.m to Noon
Wednesday 9:00 a.m.to Noon (with an option for extended day until 2:45 p.m.)
Children are accepted into the program by advance registration. It is tuition based and runs throughout the school year. Please contact
Rachael Ludwig
, Director at 961-2393 or ​rachael
@emmanuelpreschool.org, or Anne Crown
at 799-5054 or crownae@gmail.com.
For 2016 enrollment form click here.
---
Nursery

_Nursery care is available for infants and toddlers ages 6 weeks through age 3 during regular Sunday church services. During the fall, winter and spring terms, the main services are held at 9:00 a.m. and 10:30 a.m. The nursery is open from 8:30 a.m. until 11:30 a.m. or when the last child is picked up. For special services and summer services, which are held at 10:00 a.m., the nursery is available from 9:30 a.m. until 11:30 a.m. Childcare for special evening or Saturday events will be announced in advance.