Liturgical Ministries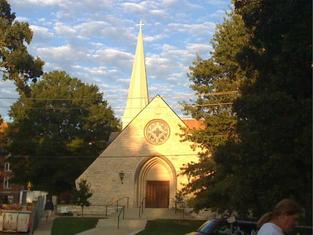 Acolytes
Acolytes serve as crucifers, torch and banner bearers during Sunday, Holy Week and Christmas worship services. Any individual is eligible to become an acolyte if they have graduated from the 5th grade.
Chalice Bearers
Chalice Bearers serve the congregation in the role of liturgical participant to help administer a portion of the Sacrament of Eucharist. If you feel called to serve in this form of ministry.
Children's Chapel
Children's Chapel occurs on Sunday during the 9:00 a.m. service. Parishioners may volunteer to be part of the Children's Chapel Program as a shepherd or as a liturgist.
Children's Choirs
The
Children's Choirs
are dedicated to the spiritual development of the younger members of our parish through music. The Children's Choir sings at the 9:00 a.m. service once a month. Music education for the younger children (through 2nd grade) includes elements of choral singing, reading the score, blending voices and independent instrumental performance. Older children learn about matching pitch, keeping the beat, percussion instruments, rhythmic body movement and self-discipline for older children. For more information, contact Lauren Honz at laurenhonz@gmail.com.
Emmanuel Choirs
See the
Music page
for more information
Eucharistic Visitors
Eucharistic Visitors unite the home-bound or sick with communicants at Emmanuel by taking and sharing Holy Communion from Emmanuel's altar to their place of residence. This position is appointed by the Rector and licensed by the Bishop.
Greeters
Greeters are available at the church entrance prior to and following the 9:00 and 10:30 a.m. services to identify and welcome visitors/newcomers to Emmanuel with a smile and greeting.
Minister of Ceremonies
The role of the Minister of Ceremony is to coordinate the procession/recession of service participants, assist clergy during the service when needed in order to provide the best
worship
environment possible.
Narthex Leaders
The Narthex leader's purpose is to be prepared to act in case of an emergency and to assist the ushers as needed for the 9:00 /10:00 a.m. service on Sunday mornings.
Readers/ Lectors
Lectors read the Old Testament and Intercessors read the Prayers of the People at assigned worship services. Parishioners are appointed based on their interest, skill and/or previous experience.
Ushers
At Sunday services ushers distribute bulletins, assist with seating, handle the alms collections and facilitate the smooth flow of communicants to the Altar rail during Holy Communion. Volunteers are very welcome.
---