---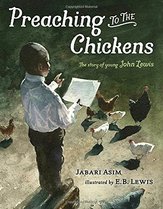 Each week in the Sunday Announcement sheet we will highlight a book that is in the Thomas Bray Children's Library. This week's book is Preaching to the Chickens,The story of young John Lewis by Jabari Asim, illustrated by E.B. Lewis.
As a child John loved spring because he was in charge of the chickens and spring meant new chicks and being outdoors. John would get up early to feed them and say to them, "Enjoy this day that God has given us." John wanted to be a preacher like the minister he heard in church. This delightful book tells the story of John and how he cared for and preached to his chickens, even baptizing them!
John Lewis went on to become a Freedom Rider in 1961 and was one of teh youngest black men to cross the Edmond Pettus Bridge in Selma, Alabama. In 1987 John Lewis was elected to the U.S. House of Representative.
---
This Week at Emmanuel:

Tuesday, June 20, 2017
EPS Summer Camp 9 a.m. to 1 p.m.

​Wednesday, June 21, 2017
EPS Summer Camp 9 a.m. to 1 p.m.
Holy Eucharist at noon
Jr. High youth and leaders leaver for Kansas City at 5:00 p.m.
Discernment Team meeting at 7:00 p.m.

Thursday, June 22, 2017
EPS Summer Camp 9 a.m. to 1 p.m.
Men's Bible Study at Stratton's Cafe, 7 a.m.
MOE Brown Bag at 4:15 p.m.

Saturday, June 24, 2017
Opera Theater of St. Louis Kids' Camp, 11:30 a.m. to 5 p.m.

Sunday, June 25, 2017
Worship at 8 a.m., 10 a.m., and 5:30 p.m.
Summer Breakfast in the dining room, 8:45 to 9:45 a.m.
---
---
TO CONTACT US:

Call 314-961-2393 or email us at emmepisc@emmanuelepiscopal.org

9 South Bompart
Webster Groves, Missouri 63119