Emmanuel in 1867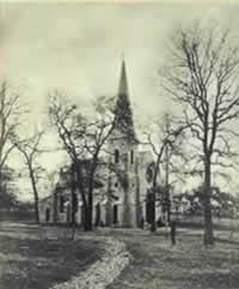 "The little church stood in its beautiful setting of trees--just a House of Prayer--in the old days. No Sunday School room or any place for choir practice, then. Only a little slip of a room, narrow and small, at the left of the chancel where the Rector might put on his vestments."

With a gift of land and the support of Angelica and Richard Lockwood, Emmanuel Episcopal Church was built in 1866 and consecrated one year later in October, 1867.

It was a country church then, built to resemble the one Angelica Lockwood knew while growing up in Shepherdstown , Virginia [now West Virginia]. There were just eight families (although large ones!) on the original register. Through the dedicated hard work of its parishioners, Emmanuel has continued to grow and flourish; approximately 400 families are currently on the register. The "little church" has seen many building additions and improvements to accommodate the growing parish.
---
Emmanuel in 1915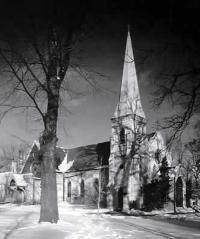 _"On several occasions Mrs. Lockwood, and my mother also, heard people who knew no better, speak of the church as the 'Lockwood Church.' Both these church women gently, but firmly, rebuked the speakers, explaining to them that the church was called Emmanuel, God With Us, and was God's house alone, built for his glory and worship, and everlasting praise."

Since 1867 the people of Emmanuel Episcopal Church have been building on the solid spiritual foundation originally provided by the Lockwoods. It is our continuing source of strength and faith to know the story and to keep it alive.

[ Reminiscences are from Angelica Jenkins (1868-1959), written in 1933. She was the daughter of Mr. and Mrs. George Robinson, two founding members of our parish.]
---