Go on a Mission Trip.
You can see all the beautiful pictures and reflections of weeks of hard work and inspiration at Rosebud Reservation in South Dakota at
http:emmanuelamt.blogspot.com
.
Bold in mission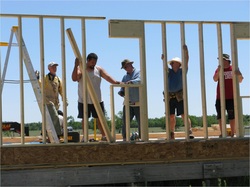 The work of the Missions Committee is rooted in the Baptismal Covenant, which states that with God's help we will proclaim by word and deed the Good News of God in Christ, strive to promote justice and peace among all people, and actively work in the community and in the world to respect the dignity of every human being.
On the international level, with money collected in the little white churches on Sunday, we have been able to contribute to the digging of deep water wells in our
companion diocese of Lui in the Sudan
. Emmanuel is engaged in the companion relationship between our Diocese of Missouri and Lui. In the past 5 years we have supported drilling water wells, educating Agriculture Trainers, buying grinding mills and parishioner visits to Lui. We continue to work with the Companion Diocese Committee.
The Senior High is going to
Guatemala
in the summer of 2017.
On the national level, the Committee has helped support missions to the
Rosebud Reservation
in South Dakota. Check out the link to their blog above. Contact Donna Erickson, donna_erickson@att.net or 961-3896.
On the local level, Emmanuel has supported
Webster-Rock Hill Ministries
, the
Episcopal City Mission
and
Gateway 180.
Download a copy of the Missions Committee brochure
"How to be the Hands and Feet of Christ"
---