Emmanuel Food Center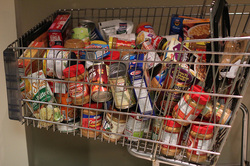 Volunteer to help out in
Emmanuel's Emergency Food Center.
The Emmanuel Food Center has been in operation since 1973, and serves thousands of clients each year. They are referred through various agencies; however, most of the clients served by the Food Center are from the Webster-Rock Hill area and bring vouchers from
Webster-Rock Hill Ministries
.
Volunteers from Emmanuel Church faithfully staff the Food Center Monday through Friday from 9:00 a.m. to 3:00 p.m. In addition to parishioners' and visitors' donations on Thanksgiving and throughout the year, we received support from several churches in Webster Groves, students of the Emmanuel Center for the Young Years, employees of Webster University, Vacation Bible School, Letter Carriers, Cub Scouts, The College School, local businesses, and individuals living in Webster Groves. If you can serve as little as three hours a month, please consider participating in this important ministry. Contact the church office for information about volunteering. Thank you for your continued support of this important ministry to feed the hungry. For more information, call Bob Shillito at 314-647-4226
.
---
City Streets & other Food Ministry Opportunities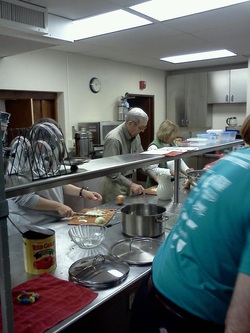 Provide meals for City Streets Project with Americorps St Louis.
Serve dinner and breakfast every other weekend to up to 50 guests December through February at a homeless shelter when it is bitterly cold outside. Americorps opens its doors when the weather is below 20ᵒ but has no kitchen facilities. Volunteers from Emmanuel cook meals in Emmanuel's kitchen and deliver to Americorps. We need teams to buy food, teams to cook, teams to deliver, and teams to go downtown and serve once a month. Contact Peggy Schroeder or Jim Groetsch.

Make a Brown Bag Meal.
Noon-thirty Brown Bag: Members of the parish meet the 2nd Thursday of every month to assemble brown bag lunches to feed the homeless. These lunches are distributed through Gateway Homeless Services. Any and all are welcome to participate. Contact Marie Holt.

Men of Emmanuel Operation Brown Bag: Men of the parish meet the 3rd Thursday of every month at 4:15 p.m. in Emmanuel's kitchen. Contact Rudy Walz.

Serve a Peace Meal at St. John's Episcopal Church.
The Peace Meal is a novel program to create community by simple hospitality: we serve a big free meal. Every Saturday, St. John's-Tower Grove cooks and serves a free meal to anyone who feels like coming: parishioners, people in the neighborhood, the poor, the young, the old, anyone. Emmanuel helps cook, serve, and eat every 6 weeks or so. We need bring nothing but willing hands, open hearts, and a willingness to associate with our guests.
Contact Peggy Schroeder

---